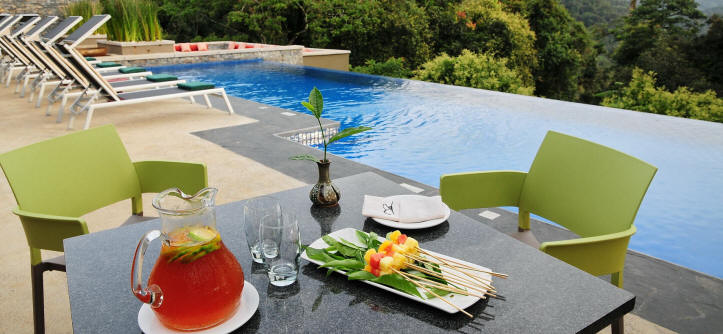 Accommodation problems in Nyungwe forest are now a thing of the past. Now it is official that the Nyungwe Forest Lodge will open its doors to the first guest in March of 2010. The lodge is already accepting booking. With a total of 24 suites, this luxury eco-friendly lodge not just another lodge. Though made of the local material, the lodge is packaged for a modern traveler, who desires to combine adventure with all the trappings of digital world.
Bistro with an out door swimming pool

A Boma area for outdoor dining and winning

Relaxation retreat with a Jacuzzi and two treatment rooms

Gift shop

Health club with treadmill, cycle and weights

Conference facilities with AV equipment for 18 delegates

Tea lodge bar

Restaurant with private rooms and terrace

The main lodge is wheel chair friendly.

Laundry

Wireless internet access
The lodge has 24 rooms all forest facing configured as follows
15 King bedded luxury rooms for maximum 2 persons

7 Twin bedded luxury rooms for maximum 2 people

2 King bedded suites with a twin room for 4 persons each.
Fire place

Air conditioning

Mini bar

Tea and coffee making machines

Hair dryer

Electronic safe

International electric adapters

International dial up phones

Private deck/ terrace

Flat LCD screen with digital satellite channels

Wireless internet
Rate per person per night sharing USD 400.00 . Rates are quoted in US Dollars per person sharing and includes Accommodation, Breakfast, Dinner with selected beverages and 18% VAT. 50% single supplement applies. Long Stay Discount (4 nights and over) 10% on total accommodation. To get your discount email us rnxploresafaris@gmail.com
Those that desire budget accommodation can always stay at Gisakura Guest House. Gisakura Guest House has basic accommodation ideal for budget travellers. One can also explore the forest from Cyangugu.
An overview
Nyungwe Forest National Park covers an area of 970 Km 2 and is the largest remaining mountane rain forest in East Africa. The park is a biodiversity centre with 13 species of primates, 260 species of trees and shrubs, over 200 species of orchids and lots of forest birds. Most of the visitors to Nyungwe forest are attracted by the presence of privates. Chimpanzee and colobus monkey tracking are the main activities. Besides primate tracking, other activities include.
Bird walks.

Excursions to Kamiranzovu Marsh (13 Km2) offering opportunity to study marsh ecosystems.

Excursions to Lake Kivu and Gisakura tea factory.

Scaling Mt Bigugu(2925M).

Photography.

Visits to Cyamudongo forest with the resident population of chimpanzees.

Excursions to Cyangugu.
Nyungwe Chimpanzee and colobus monkey tracking
While other activities may start late, Chimpanzee tracking starts at 06:00 Hrs at Uwinka tourist centre. Nyungwe has recorded some of the larges troops of colobus monkeys with some recording 400 individuals.
The adventurous waterfall trail takes half day. While the hike is moderate, some sections can be strenuous. Our advice is you follow the instructions of your guide. Carry a walking stick. Likewise the search for Uwinka troop of colobus is quite challenging depending on their location.
From Kigali, Nyungwe forest is approximately 225 Km along a winding road, some sections of which have got very sharp corners. From Kigali, you drive to south westwards to Gitarama,where you turn southwards to Nyabisindu (Popularly known as Nyanza) and finally into Huye (Former Butare(Aristrida)). From Butare, you turn westwards to Gikongoro a short distance from which you enter the forest. For those interested in deeper insights of Rwandan society there are a lot of interesting place to see on your way to Nyungwe forest. You can briefly visit
Nyanza King's palace at Nyabisindu. By the arrival of Europeans, the shifting king's palace had relocated to Nyanza. That is where the first Europeans met the reigning King (Umuami) of Rwanda. Today Nyanza is the home of Intore (Rwandan Barret). In Nyanza you will also visit the reconstructed King's place which gives the insight into the royals of the Rwanda Kingdom.

A brief stop is advised in Butare to visit the National Museum, crafts workshops, arboretum, national university and the cathedral.

Gikongoro's Genocide Memorial is also worthy a visit if you are interested in learning the causes of genocide and how avoid it.
The Kigali Cyangugu road cuts through Nyungwe forest national park. That means you can easily use public means to Nyungwe forest. However to enjoy your tour, we recommend you use private means. To hire a car visit Kigali Car Hire Rwanda . A faster alternative is to fly to Cyangugu (Kamembe) and drive to Nyungwe. You will need a car to wait for you at Kamembe Airstrip.
Gorilla Tracking
From Nyungwe forest, it is a days drive to Ruhengeri. However this is quite tiring. If you have time, drive from Nyungwe to Kibuye via the lake route for overnight. The next day you can explore Kibuye and proceed to straight to Kinigi or via Gisenyi. If you have time you can overnight at Gisenyi.
The following safari is ideal for those interested in combing Nyungwe Forest and gorilla tracking
https://gorillasafarisrwanda.com/great%20primates%20expedition.html , including visits to some attractions along the way.
Track gorillas only @ https://gorillasafarisrwanda.com/gorilla%20safaris.html