SAMBURU NATIONAL PARK KENYA / SAMBURU NATIONAL RESERVE/ Samburu Game Park.
Location: Samburu District, Riftvalley Province, Kenya, 350 Km from Nairobi.
The Samburu National Reserve is located on the banks of the Ewaso Ng'iro River. The Ewaso Ng'iro River separates Samburu from Buffalo Springs Reserve. In fact the two parks are best visited together. Despite its remote location, Samburu is a very exclusive destination. Security is no longer a big issue in Samburu. Frequent patrols by rangers and scouts have reduced poaching and improved security. You can visit Samburu anytime of the year.
Attractions, Activities, Things to do in Samburu Game Park/
Samburu game reserve is not just another of Kenya's National Park. It 's unique position surrounded by numerous private and community ranches, makes it a destination full of adventure, luxury and elegance beyond imagination. Prince William has found a hide out in Lewa, where he is less hassled. Believe it or not, it is Kenya's Millionaires playground, popular with who is who of this world. Besides the normal game drives in the reserve, private ranches offer unrivalled comfort, and exclusivity. In this region one is spoilt for activities. Activities include
Day and night game drives

Visits to local Maasai, Samburu, Turkana and Boran homesteads

Camel and horse riding in the private ranches

Nature walks conducted by local Maasai/ Samburu warriors

River rafting when season permits in Ewaso Ng'iro river

Nature walks to the Ngare Ndare and Makogondo forest conducted by the local guides

Aerial safaris in some of the lodges.

Events like Lewa safaricom Marathon, Maralal Camel Derby

Swimming either in the lodges or numerous private houses.

Farm Tours

Game viewing on camel/ horse back in the ranches

Exploring Il lolokwe, Mathews Range (Nyiro Ndoto Mountains) mountains

Camping in open skies, bush meals and sundowners in the private/community ranches.
How long you stay in Samburu depends on what you intend to do. You can spare three nights with one night in private or community ranches and the rest in the parks. We can suggest a programme depending on how long you want to stay.
Ewaso Ng'iro River:
Rising from Mt. Kenya and Aberdare , The Ewaso Ng'iro River is the lifeline of the three Reserves of Buffalo Springs, Shaba and Samburu. The river banks are colonized by grooves of Doum Palms and thick forest which acts as areas of refuge for animals during long spells of drought. The River disappears in Lorian Swamp at Habaswein in North Eastern Province. The continued existence of the three reserves is threatened by the continued destruction of Mt Kenya and Aberdare, the river's catchments. Vast chunks of Mt Kenya forest have been incised to pave way for agriculture hence tributaries like Nanyuki, Sirimon and Timau have almost dried up.
Area: Established in 1962, Samburu Reserve occupies an area of 165km square. The origins of Samburu can be traced to 1948 when it was park of the greater Marsabit National Reserve. The greater Samburu Conservation area includes local community group ranches like Il Gwesi, Motiok , and private ranches like Lewa, Borana,El Karama, Mugie, Loisaba.
Climate:
The area experiences hot and dry climate of the equatorial region with cool nights. Temperatures ranges from 20-30 degrees Centigrade. Samburu receives about 350mmof rainfall. The natural vegetation is scrub glassy plains dominated by Acacia elator, Acacia tortolise, Salvadora pesica.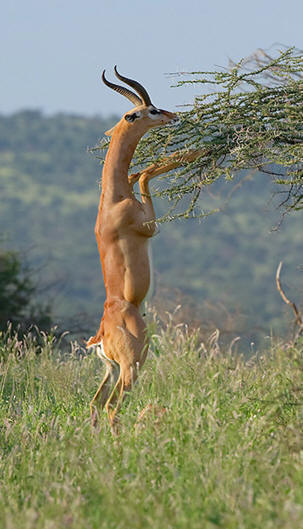 The Giraffe Gazelle-Gerenuk
The following features are visible from Samburu National / Game Reserve.
Ewaso Ng'iro River, Nyiro Ndoto Mountains (Mathews Range), Mt Kenya Ol lolokwe hill and Wamba hills.
Samburu was the second home of lioness Elsa raised by Joy Adamason. It is also the home of Kamunyak, a lioness famous for adopting oryx calves.
Getting to Samburu National Park,
You can fly from Nairobi Wilson to Samburu or you drive. Air Kenya Aviation operate flights to Samburu. Being around 350 Km from Nairobi, the drive to Samburu takes about 5 hours using private means. From Nairobi take road A2 via Ruiru, Thika, Makutano, Karatina, Marua, Chaka, Naro Moru, Nanyuki, Isiolo, Archers Post. See the map above. Enlarge the map for clear directions.
The local communities
The conservation of Samburu as a national reserve would not have been possible without the contribution of the local communities. A majority of the locals are Samburu (cousins of the Maasai). Others to be found in this region are the Turkana and the Borana.
( Unlike the national park, human activities like cattle herding, bee keeping etc are allowed in a reserve. Reserves are run by the local governments unlike parks which belong to the central government)
The main attractions of Samburu are the rich culture of the local communities, the beautiful landscape and wildlife. This region is the meeting point of the North and the South. It is in Samburu you will find the Northern and Southern dwelling species mixed. A good example are the grevy's Zebra which are found to the North of the equator and the common Zebra. Others are the Maasai and the Somali Ostrich.
Unique species (Samburu Five) in this region include the Gerenuk (giraffe gazelle), Beisa Oryx, Reticulated giraffe, blue necked Somali ostrich, Grevy's Zebra. These are found to the north of the equator.
All the big cats-Lions, Cheetah and Leopard are found here. Other mammals include elephant, Buffalo, Grant's Gazelle, Kirk's Dik-dik, Impala, Waterbuck, warthogs,On the river banks are hippos and Nile Crocodiles
Rhinos: Rhinos are not present due to intense poaching. However if interested in seeing rhinos, we advice one to visit either Meru National Park, Lewa Downs, Sweet Waters which are within the proximity of the park.
The endangered Grevy's Zebra: The original homeland of the Grvey's included the plains and scrublands Kenya, Ethiopia, Somalia and Eritrea. However to continued warfare in some of these countries, overgrazing and agriculture, today this has reduced significantly leaving small pockets of population( about) 2700 exists in the world. To more precise, it is like the only remaining population is documented in Samburu region.
Birdlife: Over 350 species of birds have been recorded in Samburu. These include Somali Ostrich, Kingfisher, Sunbird, Bee-eater, Marabou Stork, Tawny Eagle, Bateleur, Vultures. Game birds include the Helmeted and Vulturine Guinea fowls.
Samburu National Reserve Gates
Remember you must enter the reserve through the official gates: These are
Samburu National Park Accommodation
Accommodation in Samburu is both inside the park and outside in the private ranches. For those who like exclusivity, they can explore the park from luxurious private houses or community lodges like Lewa, Il Ngwesi, El Karama etc.
Safari Lodges in Samburu National Park
There are several safari lodges for accommodation in Samburu National Reserve.
Samburu Serena Lodge

Samburu Sentrim Lodge

Samburu Intrepids

Samburu Lodge

Samburu Sopa Lodge-

Saruni Safari Lodge
Luxury Tented Camps in Samburu /Camping in Samburu
The tented camps in Samburu are mostly luxury.
Larsen's Tented camp

Elephant Watch

Kitich Tented Camp.

Sasaab Tented Camp
Budget Camp sites