Meru National Park
Accommodation-Game Lodges, Bandas, Campsites:-
Meru National Park popularly known as Elsa's country is a complete wilderness ideal for wildlife safaris and adventures, sight seeing, camping and relaxation. The park is a romantic and beautiful paradise off the beaten track, away from the public glare. Meru park is a destination of choice for nature lovers and features a Rhino Sanctuary. Making it a home away from home are diverse accommodation facilities to cater for different categories of travellers.
Luxury Accommodation In Meru National Park
Rhino River Camp, Leopard Rock Lodge, Elsa's Kopje Lodge , Meru Mulika Lodge, Off Beat Campsite provide luxury accommodation in the Park. Luxury accommodation facilities rates vary between USD 300 per person to USD 600 PP per night.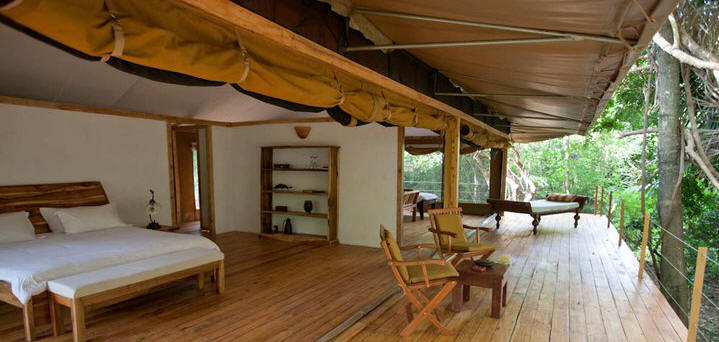 The Rhino River Camp comprise of eight luxury cottages built out of caramel canvas, sustainable hardwood, on platforms above the gently flowing Kindani River. It is located in 80 acres of privately owned wilderness, offers a chance to connect with nature and to delight the senses in un spoilt bush and forest. Each room has its own private 'zen' area where you can meditate, re-read your favorite novel, or simply unwind.
Elsa's Kopje Lodge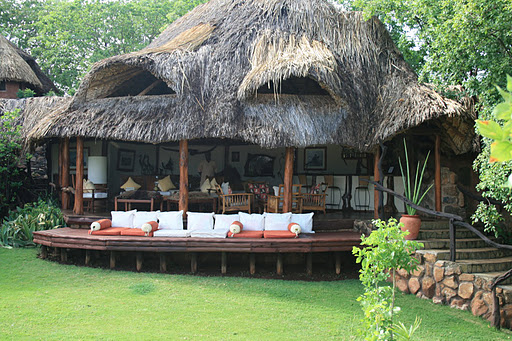 Elsa's Kopje is named after Elsa the lioness, made famous by George and Joy Adamson's biographical book and film "Born Free". Winner of the Good Safari Guide's 'Best Safari Property in Africa' award, Elsa's Kopje is renowned for being one of the most elegant lodges in Africa, with the most spectacular setting. It is the best upmarket location to view rhino in their natural habitat in Kenya.

Elsa's Kopje is almost invisible to the eye as you approach its home on Mughwango Hill. It blends into the rocky crags of the "kopje" (small hill), built above the site of George Adamson's original campsite. Every cottage is the ultimate 'room-with-a-view', uniquely designed and crafted, incorporating the natural features of the rocky hillside. Each cottage has spacious double or twin beds with en suite, elegantly appointed bathrooms. There is an open bar, lounge and dining room with an exceptionally inviting infinity pool overlooking the Meru plains.

Elsa's Private House is a spacious, stylish, exclusive hideaway set slightly apart from the main lodge. It has 1 double room and 1 twin, both with their own en suite bathrooms. There is a large private living and dining area, leading seamlessly outdoors into a private garden and swimming pool. Elsa's Honeymoon Suite is a triple level room, with a sitting room, double bedroom and en suite bathroom. With its breathtaking views, this latest addition is definitely Elsa's 'pride'! Read More on Elsa's Kopje Meru National Park
Leopard Rock Lodge
Enjoy the luxurious right in the middle of an African wilderness with its doum palms, wild fig trees, euphorbias at the doors of the deserts.

15 romantic cottages very luxurious with panoramic view from the bed, overlooking a tropical river and Bisanadi reserve with very high roof which ensures natural ventilation, large private terrace which have attractive view on - river and the bush.

10 luxurious suites including honeymoon cottages.

5 luxurious double room cottages 2 bathrooms, Swimming pool on the ground of the bush river, 1 intimate lounge, 2 cover bar lounges, 1 open lounge, 1 fireplace.

Open to the wilderness (no fence) at the same level, Buffalos, Elephants, Leopards, many others and Lions which come very often to drink at the swimming pool by night. Read more on Leopard Rock Lodge

Ikweta Safari Camp is the only mid range facility providing full board services. Ikweta Safari Camp is located just two kilometres outside of Murera Gate. Ikweta Safari Camp features Ten (10) spacious tents thatched in makuti and tastefully decorated in Safari-style and with high quality furniture including either twin or double beds. Excellent meals prepared from the freshest local produce. Large swimming pool and other amenities.
Budget Accommodation in Meru National Park
Budget accommodation is available at
Kws Self catering Bandas-Bwatherongi and Murera and Kinna Guest House.
The Bwatherongi Bandas -Self Catering :- With a swimming pool the Bwatherongi Bandas are some of the Best in Kenya. Bwatherongi Bandas are well spaced giving each individual visitor utmost privacy. The Bandas are located on the banks of bwatherongi river. Bwatherongi Bandas feature private bathrooms with hot showers. The cooking area is outside the bandas.
There are numerous campsites in the park. Security has been beefed up security and access roads repaired.
With an area of 870 Km square, Meru is one of the list developed in terms of accommodation facilities. It has only two luxury lodges, two luxury campsites, three bandas. The rest are campsites
Meru National Park
Meru National linked by a all weather road from Nairobi(248km) to Murera Gate. Meru can be visited throughout the year. A visit to the Park is best combined with the nearby attractions. These include Mt Kenya National Park, Lewa wildlife conservancy, Borana Ranch, Rutundu Log Cabins, Samburu, Buffalo Springs and Shaba Reserves, Sweet Waters game sanctuary.
Combinations with Maasai Mara, Serengeti, Manyara, Ngorongoro and Lake Nakuru are feasible
Getting to the Park:
Fly/Flight From Nairobi.
Daily scheduled flights fly into Kinna, Mulika, and Murera airstrips.
Vehicle: All the main roads to the Park have been upgraded.
Attractions /A
ctivities/ Things to do in the Park
This park is about exclusivity. Bird Watching, Picnics, Camping, Wildlife Safaris, Adventure and Cultural safaris can all be organized. Game and bird watching are best undertaken in the morning and evening. Nature walks, rafting and fishing can be organized along Tana River. Afternoons are best spent on cultural tours, fishing, rafting or just relaxing at the hotel swimming pools.