Gorilla Safaris Rwanda
GSRT04- 7th Wonder of the world Safari 9 Days
Our seventh wonder of the world safari offers you an opportunity to follow herds of migrating wildebeests between Maasai Mara Serengeti ecosystem and finally to lake Manyara and Ngorongoro Conservation area. The best time to witness wildebeest migration summer-July, and September. Besides wildlife viewing, the tour includes visits to local communities. Why do they migrate, what dangers do they encounter? Our guide will answer all these questions as the spectacle unfolds before you eyes. Welcome to the annual wildebeest migration.
Wildebeest Migration Safari Masai Mara Serengeti, Ngorongoro Manyara 9 Days
Day 1- Arrive Nairobi
Upon your arrival at the Nairobi Jomo Kenyatta International Airport you are met and transferred to Nairobi Serena Hotel. After check in and relaxation, our tour manager will brief you on your safari and local culture. Overnight Nairobi Serena Hotel B
(

Day 2- Nairobi to Maasai Mara Safari

Breakfast at the Nairobi Serena hotel. Depart by road to the Maasai Mara game reserve arriving in time for lunch at the Mara Serena Safari Lodge, after lunch afternoon game viewing drive in the Maasai Mara game reserve.

On the way to Maasai Mara, you can visit the Italian Chapel and the Maasai Museum at Narok. (Visit to Museum not included in tour price)

Dinner and Overnight Mara Serena Safari Lodge

(FB) B/L/D

(

Day 3 Maasai Mara Safari

A full day at the Maasai Mara game reserve, with morning and afternoon game drives across the plains. Maasai Mara is famed for its rich assemblage of wildlife, supporting 273 herbivores per kilometre square at a time. The big five elephants, buffalos, leopards, lions and Rhino are all represented. During annual wildebeest migration, vast herds of wildebeest cover every inch of the plain giving them a vivid semblance of canvas painting. The migration is a closely watched phenomenon. On the heels of migrating herds of zebras, wildebeests and Thomson's gazelles are hounds of predator and scavengers; vultures providing. Not to be left human beings from the four winds of the globe converge at the crossing points to witness "a once in a lifetime experience". Dinner and Overnight Mara Serena Lodge (FB) B/L/D, - (http://www.serenahotels.com).

Extra activities that one can undertake in Maasai Mara include, balloon safari Prices from USD 475 pp., o Nyang'oma Kogelo ,Rusinga island and local community homesteads (manyatta)

Day 4 Maasai (Masai) Mara Serengeti Safari

Early morning wake up followed by breakfast. 07h30 depart for Isebania/Sirari Kenya / Tanzania border to immigration and customs formalities and vehicle exchanges between the Kenyan and Tanzania drivers. Then depart for Central Serengeti to arrive late afternoon at the Serengeti Serena Lodge. Dinner and Overnight Serengeti Serena Lodge

(FB) B/L/D

Day 5 Serengeti Safari

Breakfast at the Serengeti Serena Lodge. Morning and afternoon game viewing drives. The wildlife defines the Serengeti-countless zebra, buffalo, gazelle, wildebeest, and other species make it their home. The terrain is the main stage for the great wildebeest migration, an awesome spectacle involving millions of these beasts.

Dinner and Overnight Serengeti Serena Lodge.

(FB) B/L/D

Day 6 Central Serengeti to Ngorongoro Safari

Breakfast at the Serengeti Serena Lodge is followed by morning game viewing drives in the Serengeti national park. Lunch at the Serengeti Serena Safari Lodge. After lunch depart via the Olduvai Gorge to Ngorongoro highlands and through the Serengeti plains climbing to the altitude of 8,000 feet. You continue to ascend to the exterior of the crater reaching its rim and here your first glimpse of what has often been referred to as the "Eighth wonder of the World."

Dinner and Overnight Ngorongoro Serena Safari Lodge

(FB) B/L/D

Day 7 Ngorongoro crater Safari

Breakfast at the Ngorongoro Serena Safari Lodge and with your picnic boxes descend to the floor of the crater for a full day crater tour. Picnic lunch boxes will be served by the hippo pool. After lunch ascend and return to the Lodge Dinner and Overnight Ngorongoro Serena Safari Lodge

(FB) B/L/D

Day 8 Ngorongoro crater to Lake Manyara Safari

Breakfast at the Ngorongoro Serena Safari Lodge, Then transfer to the Lake Manyara Serena safari Lodge. Spend the morning using the recreational facilities offered at the Lodge. Lunch at the Lodge followed by afternoon game viewing drives in the park

Dinner and Overnight at the lake Manyara Serena Safari Lodge

(FB) B/L/D (

Day 9 Lake Manyara to Arusha

Breakfast at the Lake Manyara Serena Safari Lodge. After breakfast depart to Arusha. Arrive Arusha in time for lunch. Fleshen up in your day rooms and proceed to airport in the evening for home flight.

Price From USD4587.00

Gorilla Safaris Rwanda Offers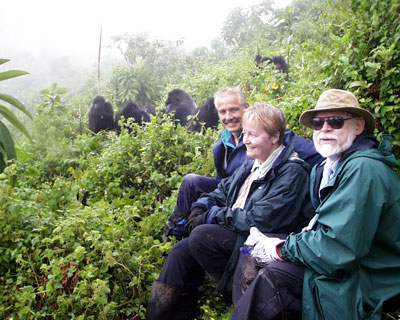 Special Offer
Best Time: This safari is best undertaken from 10th August
TO BOOK EMAIL US rnxploresafaris@gmail.com
This safari is private. You will have exclusive use of your vehicle with your group only.
The package will include following services: -
Nairobi Airport transfers

1 nights on bed and breakfast accommodation at the Nairobi Serena Hotel

7 nights on full board basis at the Mara Serena, Ngorongoro Serena, Lake Manyara Serena Safari Lodges and Serengeti Serena Lodge.

All meals as indicated-B-Breakfast, L-Lunch, D-Dinner

Ground transportation in 4 x4 wheel drive exclusive vehicles in Tanzania and 4x4 mini vans in Kenya all with services of English speaking driver guides

Game viewing drives as per the itinerary, and game park entrance fess. Game drives are unlimited. Anytime you are free our driver will be willing to take you for one. Just ask him.

Free Cultural tours:- these are free of charge. Just tell the driver you would like to visit the local villages (Bomas). However cultural dance is not included. Also please ask for permission before photographing the local people.

Plenty of mineral water while on a safari. Our driver will ensure that there is enough water for the whole tour. You are entitled to 4 litres per day. However do not shy from asking for more just in case.

Evacuation insurance within East Africa provided by AAR- this is not a travel insurance but a cover for evacuation to a hospital in case of ill health or injury while on a safari.

All government taxes

Plenty of mineral water on the safari.

Free Courtesy bus and Nairobi city tour: Our courtesy bus will be available to ferry you within Nairobi for shopping, a meal or any other need. All you need to do is tell the driver the attractions you would like to visit and he will take you there. You are responsible for entrance fees to attraction sites, extra meals and shopping. You can let us know this in advance so that we organize for you.

Available upon request at extra cost are Russian, French, Spanish, Italian and German speaking drivers guides.
The package excludes following services:-
International Airfares

Visa entry charges to Kenya and Tanzania, which is US$ 50.00 per person for each country.

All items of personal use i.e. drinks, laundry, telephone calls, gratuities,

Personal travel insurances. Our evacuation cover should not be mistaken for travel insurance.
GENERAL INFORMATON
CANCELLATIONS
All cancellation must made in writing to GORILLA SAFARIS RWANDA and all cancellation will be charged a cancellation penalty depending on the number of days before tour departure:
Between 45 days and 30 days No refund of the deposit
Less than 30 days No refund of the land cost
There is no refund of any unused portion of your safari once commenced. Cancellation penalties on Airfare are additional and are not included in the above cancellation charges.
IMPORTANT INFORMATION
Tour cost are based on all known costs and rates of exchange at the 01st June 2010, any significant changes beyond the control of Gorilla Safaris Rwanda will be passed on to passengers.

GORILLA SAFARIS RWANDA also retain the right to alter any arrangements due to local conditions. GORILLA SAFARIS RWANDA also retains the right to refuse any person from participating or continuing any tour for any reason or if that person causes or is deemed to cause hazard and/or inconvenience other passengers.
GENERAL INFORMATION:
VISA PAYMENTS
Visa fees for entry to Kenya and Tanzania will be of US$ 50.00 per person per entry.
CURRENCY:
These vary tremendously from country to country. Traveller's cheques and foreign currency must be changed at the bank, hotel, or safari lodge. Most countries will accept any Traveler's cheques when making payment of service or goods. The Kenya Shillings (Kshs) is Kenya Currency and Tanzania Shillings (Tshs) is Tanzania currency.
CLOTHING:
Dress is mainly informal and should be comfortable as well as practical. Something warm should be brought along for early morning and evenings. Safari clothes are available from hotels /lodges /camps.
BAGGAGE:
Where possible, travel light. Baggage space on safari is limited to medium suitcase or hold-all per person plus reasonable amount of hand luggage. There is 15 Kilogram per person limit on all flights to the wildlife sanctuaries. Excess luggage must be stored in your arrival hotel.
AIRPORT TAX:
These taxes are payable on final departure day from the country and practically all African countries (currently US$ 30.00 per person in Kenya and US$ 30.00 per person in Tanzania). There are also domestic taxes (average US$ 6 per person).
WATER
You will find many different of opinion of what is safe and what is not. We recommend for peace of mind, to drink local bottled mineral water.
HEALTH
Remember to take your Malaria medication and protect yourself from sun with sunscreen or safari.