Introduction
This is a full inclusive safari package meant to give you an insight into Meru National Park- often described as a complete wilderness, the park is characterized by beautiful vistas of Mt Kenya and bush covered plains. The park offers:
● Unrivalled game viewing with all the big five and other plain game,
● Great bird watching opportunities with over 300 recorded
● Hiking opportunities
● Visits to local villages of the Meru and the Boran
● Great Hiking and cycling
The afternoons are best spent relaxing by the poolside of your hotel, walking the banks of river tana or visiting locals. Game drives are best at dawn or at dusk. Best time to visit- Throughout the year.
The Safari Facts
Classification: Budget Best offer
Departure Points: Nairobi, Meru, Nanyuki, Isiolo
Best Offer Prices -Budget at Ikweta Safari Camp:
●Non USD 630- USD 850 pp
● Residents Kes 31550-3600PP
Price depends on season, departure point and mode of transport
Accommodation:
● Budget Ikweta Safari Camp on full board on sharing basis
Duration: 3 days 2 Nights
Game drives: Minimum 4 with
Group: Minimum group size 2 pax. A single traveller supplement apply to single travellers.
Transportation: Safari Mini Van for budget, Safari landcruiser Mid Range, Fly/Drive for luxury
Flights From Nairobi ( WIL)- Meru National Park
WIL-MERU NP FLT 861 DEP 0730 ARR 0815
FLT NO.
FROM
TO
DEP
ARR
861
WIL
HKMK
07:30
08:15
871
WIL
NYK
09:15
NYK
HKMK
10:30
827
HKMK
NYK
10:30
NYK
WIL
12:15
Daily flights depart Nairobi Wilson Airport. The flight schedules are as follows
Driving from Nairobi:
The park is linked to Nairobi by all whether road via Murera gate. There are two routes:-
a) From Nairobi (348 kms), via Nyeri-Nanyuki-Meru-Mau-Murera Gate via all weather road.
b) From Nairobi (348 kms), via Embu-Meru- Mau-Murera gate via all weather roads.
Safari Programme
Day1 Drive/ fly to Meru NP
Mornning departure from Nairobi, Meru or Nanyuki and dive or fly to Meru NP. Those that fly will picked from their hotel and transferred tot he airport to catch their flights. On arrival have lunch followed by an evening game drive. A morning game drive is possible for early arrivals.
Day2 Full day Meru NP
Spend the day in the park with an early morning and late afternoon game drive. Visits to the local villages can be organized
Day3 Fly/ Drive Back to origin or Away
Early morning game drive, return to the lodge camp for breakfast. After breakfast programme varies depending on your place of origin. Those that return to Meru/ Nanyuki/ Isiolo will check out and continue with an extra game drive. Those that fly to Nairobi or Nanyuki or Samburu will have a schedule depending on flight timing.
End of safari
Meru National Park Attractions- Physical Features
Mammals includes- Lion, elephant, cheetah, leopard ,Lesser Kudu, duiker, Dik Dik, buffalo, reticulated giraffes (Endangered), black and white rhinos, Grevy's zebra (Endangered), eland, Oryx, Impalas, buffaloes. Black and white Rhinos ( Endangered). Aquatic life include hippo and crocodile. Fishing for barbus and catfish is permitted at camp sites and along the Tana River.

Uninterrupted view of Mt Kenya.

Over 300 species of birds recorded.

Adamson's grave and camp

Pippa's Grave- Pipa was Cheater brought up by Joy Adamson.

Elsa's Grave-Elsa was the lioness of the born free fame.

Swamps- Mughwango, Mulika, Bwatherongi, Mururi and Leopard Rock. Animals congregate in the swamps during dry season

Rivers- a total of 14 permanent rivers and numerous streams including Murera, Rojowero, Kiolu, Ura, Bwatherongi. Tana River forms its southern boundary.

Rhino Sanctuary: The rhino sanctuary can be accessed from Murera gate.

Cultural centers- Meru cultural center outside Murera gate and Malka (Boran) cultural center outside Bisanadi Gate.
Meru NP Accommodation Facilities
luxury accommodation in the Park. Luxury accommodation facilities rates vary between USD 300 per person to USD 600 PP per night.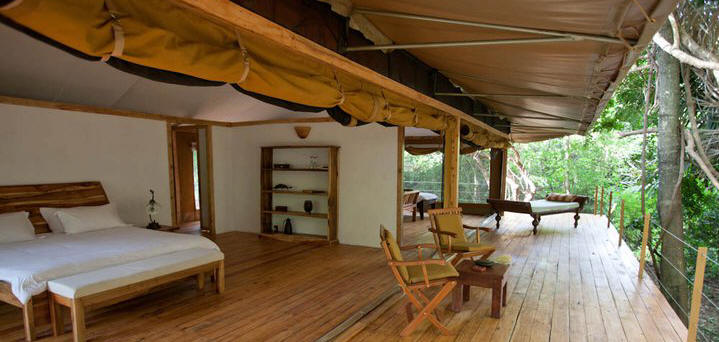 Rhino River Camp, a luxury property in Meru National Park
Meru Mulika Lodge ( Temporally closed for renovation) is located a few meters from Murera gate.
Mid Range Accommodation in Meru National Park
Mid range facilities are located outside Meru National Park include Ikweta Safari Camp and Murera River Camp
Ikweta Safari Camp (USD 150 Double FB)
Ikweta Safari Camp is the only mid range facility providing full board services. Ikweta Safari Camp is located just two kilometres outside of Murera Gate. Ikweta Safari Camp features Ten (10) spacious tents thatched in makuti and tastefully decorated in Safari-style and with high quality furniture including either twin or double beds. Excellent meals prepared from the freshest local produce. Large swimming pool and other amenities.
KINNA Guesthouse ( High Season- Apr, Aug, Dec USD 300; Rest of the year USD 250 for entire House). Resident Rates KES 18000 High season; KES 15000)
Built by the First Warden Mr. Peter Jenkins in the1960s, the guesthouse is 20Km from Murera gate and less than a kilometer from Kinna Airstrip. The guest house has total capacityof 10 pax.
KWS Bandas:- Bwatherongi, Kinna and Murera.
The Bwatherongi Bandas -Self Catering :- With a swimming pool the Bwatherongi Bandas are some of the Best in Kenya. Bwatherongi Bandas are well spaced giving each individual visitor utmost privacy. The Bandas are located on the banks of bwatherongi river. Bwatherongi Bandas feature private bathrooms with hot showers. The cooking area is outside the bandas.
Murera Bandas -Self Catering:
Just inside the Murera Gate. These are also self contained with hot showers. They are well spaced giving each banda privacy. The bandas are located on the banks of Murera River across which is Bisanadi National Reserve.
Campsites/Camping
There are numerous campsites through out the park. Special Campsites include Kampi Baridi; Kitanga; Makutano; Rojoweru; Mugunga; Ken Mare and Kanjoo. These ones have no facilities and prior booking is required. Public campsites with showers are available at Bwatherongi Bandas.