Lake Nakuru National Park or Game Park is an ornithological paradise located two hours drive, 156 Kilometers west of Nairobi on the floor of Rift valley. The park dates back to 1961 when the southern park of the lake was gazetted as a bird to protect the "greatest bird (ornithological) spectacle on earth", for the future generations. In 1964, the whole of the lake was declared a bird sanctuary. in 1968, the Lake Nakuru shores were added into the sanctuary and the whole area was upgraded to a National Park. In 1974 a northern extension was added to the park increasing its area to the current 188 Km2. In 1990 Lake Nakuru Game Park is a designated a Ramsar site- for protection of an important international wetland.
Accommodation in Lake Nakuru National is diverse to cater for different categories of visitors. Visitors have a choice of either sleeping inside the park or outside the park. Inside the park, there are two safari lodges, one tented camp, a private house , Kws bandas and public campsites. The two safari lodges in the park are Lake Nakuru Lodge and Lion Hill Lodge. The two facilities offer mid range to luxury accommodation to their guests. The only truly mid range property in the park is the Flamingo Hills Tented Camp. Kws bandas and campsites offer budget alternatives to locals and tourists alike. Nakuru town has both mid range and budget hotels to cater for visitors.
Lake Nakuru Lodge (Single USD 200, Double USD 300, Junior Suite Double USD 400, Senior Suite Double USD 550)
Located inside the park. The lodge caters for 180 guests. Room categories include family rooms, deluxe cottages, or suites. From Nairobi visitors can either drive to the lodges (2 Hrs) or take a 25 minutes flight. The lodge enjoys and ideal location with spectacular views of the lake shores and the park in general. Below is the swimming pool of Lake Nakuru lodge.

Lion Hill Game Lodge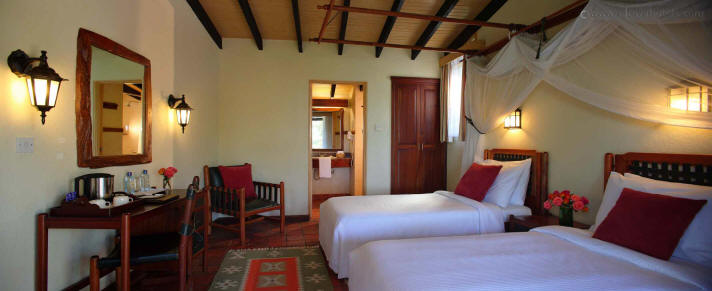 Above is a twin room at Lion Hill Lodge and below swimming pool.
Located 2 hours drive or 25 minutes flight from Nairobi, Lion Hill is nestled along the Lion Hill overlooking the spectacular flamingo pink rimmed Lake Nakuru. The location affords panoramic views of the Lake and the picturesque Lake Nakuru National Park. The Lodge is a favorite with residents and visitors to Kenya. All chalet style rooms and suites at Sarova Lion Hill Game Lodge have:
Private patios with panoramic views of the flamingo pink rimmed Lake Nakuru, en-suite bathrooms with permanent showers and WC, running hot & cold water, razor outlets with 220 and 240 volts, beds with mosquito nets and duvets 240V power 24 hours.
The lodge has 2 conference rooms available. Conference equipments (Overhead projectors, LCD Projector, w/screen, TV and Video, flip chart board, writing pads, markers and pens.) Capacity 45 U-shaped style, 100 Cocktail style and 70 Theatre style
Free use of designated areas for breakaways.
Children are welcome at Lion Hill Game Lodge. The Lodge has a special Activity Room for children, well stocked with games such as archery, darts, table tennis, carom board, movies and activities for children. Children also enjoy activities such as swimming, walking safaris and bird-watching within the secure premises. We have specially trained staff who escort the children and facilitate activities for children. They also enjoy viewing the lake and the park through the powerful telescope located near the amphitheatre.

Tented Camps
Flamingo Hill Tented Camp, There are 25 en-suite tents with WC and flush toilets, writing desk, hot water and a balcony. They also have conference and laundry facilities.
Hotels And Guest Houses in Nakuru Town
Nakuru town is served by several and guest houses hotels to cater for all classes of travellers ranging from Budget, to mid range properties. These include, Midland Hotel, Hotel Genevieve, Pivot Hotel, Eros Guest House, Stem Hotel,
Bandas in Lake Nakuru:
Naishi banda; Rhino banda; Chui banda; Reedbuck banda; KWS Isikon banda; Nyuki banda; Soysambu banda; Makalia Falls banda; KWS Guest House; WCK Education Centre & KWS Education Centre bandas.
Lake Nakuru National Park Safaris
Lake Nakuru National Park is a premier tourism destination attracting diverse visitors of different backgrounds and with differing interests. It is the best place to see flamingoes, leopards and rhinos. Nature lovers from all over the world congregate in the park for relaxation and adventure. With over 450 species of birds identified, the home of flamingoes is an undisputed ornithological Paradise. A two nights stay will give you enough time to enjoy the numerous activities on offer-game drives, bird watching, nature walks. The greatest crowd puller is the annual Cycle With The Rhino Festival. Lake Nakuru can be visited within a day from Nairobi(See 1 day Lake Nakuru Excursion, 2 Days 1 Night Lake Nakuru Safari) . A combination of safaris enables one to visit both lake Nakuru and Maasai Mara National Parks (see Nairobi Lake Nakuru Naivasha Maasai Mara 4 days 3 nights.)
Other combinations feature nearby attractions-Mt Kenya, Sweet Waters, Menengai Crater, Hells' Gate, Lakes Naivasha, Baringo and Bogoria. (See Nairobi -Mt. Kenya-Samburu -Sweet Waters-Lake Nakuru-Maasai Mara 9 days safari)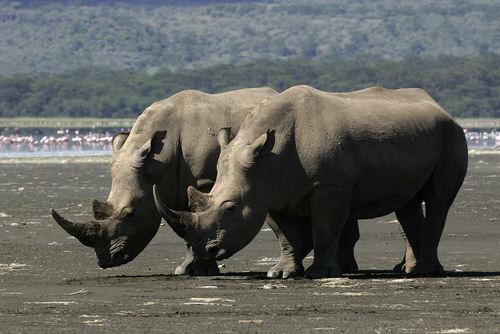 Rare Rhinos easily spotted in Lake Nakuru Park
The Park is famous for its bird spectacle featuring over a million flamingos, over 400 migratory bird species from around the world and large flotillas of pelicans. Two species of flamingoes exists in the lake Nakuru Game Park- the lesser flamingo with deep red carmine bill and the greater flamingo with black tip. The flamingos feed on Blue green algae, created from their droppings mixing in the warm alkaline waters, and planktons.
450 species of birds ,56 different species of mammals, the rhino sanctuary.

View-points: and hills Lion hill, Baboon cliff and Out of Africa provide vintage views

Events- The annual Cycle with the Rhino, Animal Count,

Waterfalls: Makalia

Unique vegetation: About 550 different plant species and The largest Euphorbia cnadlebrum forest in Africa, Picturesque landscape and yellow acacia woodland.

Bahrain springs, the only permanent water source of Lake Nakuru Park.

Rivers Makhalia and Nderit are dry most of the time due to deforestation in Mau.

Reptiles: A large number of reptiles inhabits the parks including the python and tortoise.

The spectacular scenery of the Rift-valley.
Lake Nakuru Rhino Sanctuary:- The Rhino Sanctuary was established 1984. In 1986 a solar powered electric was installed by Rhino Rescue Trust. The Rhino Sanctuary began with the translocation of two adult males, one from Kitengala and the other from Lewa Downs.

Today the rhino population stands at 60 Black Rhinos and 40 White Rhinos. The main challenges of lake Nakuru as a conservation site are a large population, deforestation of the catchments, siltation and pollution.
Other Activities in Lake Nakuru National Park-What see and do:
Besides game drives and visits to the Rhino Sanctuary, other activities include bird watching, event participation, picnics, and visitis to Hyrax hill archeological site, Menengai crater and the nearby lakes Bariong and Bogoria.

Picnic sites in the park:
Makalia Falls, Enjoro River Mouth near the main gate, Baharini, Acacia, Baboon Cliff, Out of Africa, Lion Hill Summit.
Lake Nakuru park gates: Main Gate, Lanet and Nderit.
Conservation Status:
The main challenges of existence of Lake Nakuru Park as a bird spectacle are threefold-the pollution of the lake from domestic and industrial wastes from Nakuru town, the decreasing level of the lake and the large mammal population which tends to interfere with the lakeshore breeding grounds of birds. In addition to these two is the fact that the park is completely fenced hence animals cannot freely migrate in and out of the sanctuary. Equally significance is the absence of the elephants which has resulted in some parts of the being heavily forested and hence not ideal for game watching. A major threat to the existence of Lake Nakuru National Park is the drying up of rivers due to recent incursions into Mau Forest. Unless urgent measures are taken to re afforest Mau, Lake Nakuru, Maasai Mara and even Serengeti ecosystems will never be the same.