Wildebeest Migration Safari Nairobi -Masai Mara _Special /Best Offer at USD 1335 PP for two
The Annual Wildebeest migration also called the Great Wildebeest migration takes place in an extremely rich, contiguous and self sustaining Masai Mara Serengeti Ecosystem. The self sustainability has earned it label of the only "true ecosystem" on earth. This 5 days budget safari offer visitors an opportunity to extensively explore Masai Mara in an affordable manner . This tour maintains high standards of service. Accommodation is in high low end (Budget) tented campsites with in house WCs. Transportation is in a 4x4 Safari land cruiser with a qualified driver guides. Multi-lingual guides are available on request. A luxury option fly drive is available from USD 2076.00 PP for two
Gorilla Safaris Rwanda Offers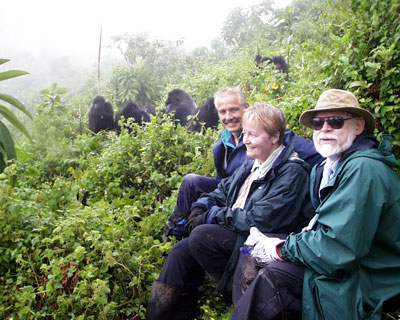 Special Offer
(GSRK023) 5 days Budget Mara Explorer Wildebeest Migration 2013
Tour Summary

Tour Code: GSR023

Tour Privacy: Two is Private, three is a crowd.

Group Size: Tour available for 1, 2, 3 or more. Maximum per vehicle 7 pax.

Duration: 5 days

Safari Highlights: Metropolitan Nairobi, Wildlife viewing and cultural tours to Masai villages

Departure: Daily departures from Nairobi 365 days.

Destinations: Nairobi and Masai Mara

Best time: Migration time from Mid Jul -September

Best Offer Price USD 1335.00 PP for two

Accommodation: In Budget hotels in Nairobi and tented Camps with private showers on full board in Masai mara.

Transportation: Safari Land Cruiser Or Toyota Prado.

What to Bring:

See Safaris What to bring and other travel tips
Tour Programme
Day1 Arrival Nairobi and overnight/
Arrive at Jomo Kenyatta airport in the late afternoon and transfer to your hotel. Overnight Budget Hotel Nairobi BB.
Day 02/ Drive Nairobi-Masai Mara
Before breakfast, check out of your hotel and drive to Maasai Mara. Have a game drive en-route to the lodge. Have an evening game drive. Overnight Budget Tented Camp FB.
Game drives
As you have a private car all for your own use, you go for game drives anytime you desire.
Maasai Mara:
Masai Mara and Serengeti form a contiguous ecosystem, the playground of the annual wildebeest migration, the greatest and most spectacular mammal migration on earth. Supporting over 273 herbivores per square kilometer, the Mara boasts of one of the richest assemblage of wildlife in the world. Besides herbivores, the Mara has a large representative of predators-lions, hyenas, cheetahs, leopards. There are no dull moments in Masai Mara. Nature is always at play. Days are eventful and scenes keep on changing as nature wonderfully unfolds before your eyes. It is a one in a lifetime too many. At one station it's a lionesses hunting-the stealth stalking, the adrenalin chase, and the eventual capture or disappearance of the prey. In the far corner is a pair of ostriches walking the plains oblivious of the happenings around. And in the same breath you notice a pair of cheetahs perched on a rock surveying the plains. Bird watching is superb with 450 species recorded. The Marsh lions featured in BBC Big Cats Diary series are found in the Musiara Swamp, in the Musiara sector of the park. The best time to visit Masai Mara is of course during the annual wildebeest migration Jul-September.
Day03-Day4 2013 Masai Mara
Days spent in Masai Mara with morning, mid morning and afternoon game drives. Early morning game drives provide the best chance to witness predators hunting. In the mid morning, the scene changes as the often disturbed plain game settle to feed. Feeding times are venerable and animals take caution by maintaining a all round sentry-feeding individuals facing outwards from the centre. In the afternoons most of the animals will take a siesta under the shade. Of course all herds will leave several individuals standing to scout for approaching predators. Occasionally a lone gazelle will be giving birth at high noon when it is too hot for predators to bother. All meals and overnight Budget Tented Camp FB
Day05/ 2013
Early morning game drive and return to your lodge for breakfast and drive to Nairobi arriving in time for lunch. Lunch is followed by evening transfer to the airport to catch your flight home.
Balloon Safaris 2013
These depart everyday at 06:00 and take approximately one hour. They are available at extra cost of USD 475 pp (Subject to confirmation of price)
End of Safari
Price person person Sharing for Stay at Mara Serena
Price from USD 1335.00 per person sharing
SEE LUXURY MARA EXPLORER 5 DAYS FROM USD 2076.00
Included
Accommodation on full board basis.

All park fees

All government taxes

Transfers on arrival and departure.

Use of stretch Safari Landcruiser 4x4.

Use of certified driver guide in Maasai Mara.

Mineral water during the tour

Airport transfers on arrival and departure

Use of qualified tour guide during the tour

AAR evacuation cover
Not included
All items of purely personal nature

Travel insurance. During tour guests are only covered inside the car.

Air fares

Tips and gratuities.

Entry fees to Giraffe Manor, Karen Blixen and any other attractions during the city tour.
Enquiries or book this safari now
Email us: rnxploresafaris@gmail.com or info@gorillasafarisrwanda.com
More About the Wildebeest
The Wildebeest migration takes place in an extremely rich contiguous and self sustaining Masai Mara Serengeti Ecosystem. The self sustainability has earned it label of the only "true ecosystem" on earth. The Masai (Maasai) Mara magic is attributed to its panorama. From the vantage of rounded hills, the large expanses grassy plains teaming with herds of animals resemble a canvas painting. The overwhelming population and the rich species presentation is mesmerizing.
Wildebeest herds covering the whole plain like a carpet. From the sky, it looks like a ceaseless flow of a mighty river.
Between April and May
The calves matures and are readying for migration. The migrating herds are leaving Eastern Serengeti and slowly approaching Central Serengeti (Serenora). Between May and June the herds enter the western corridor of Serengeti called Grumetti. By Mid June they start crossing Grumeti River along the Northern Corridor towards Maasai Mara.
In July the herds cross the Mara River into Maasai (Masai) Mara, where mating takes place. Between August And September the herds are settled in Masai Mara. By the end of September, the succulent grass in Mara is diminishing and the wildebeest migration heads eastwards crossing into Northern Serengeti in October and part of November. By December, the herds have are past central Serengeti headed to western plain of Ngorongoro, Masawa game sanctuary and Ndutu areas.
Accommodation In Maasai (Masai) Mara National Reserve:
Maasai Mara has the largest number of lodges and tented camps in any park of East Africa.
Lodges in Maasai (Masai) Mara
Mara Serena Lodge-Serena Hotels and Lodges

Mara Olkuruk Lodge

Mara Sopa Lodge-Sopa Elewana Lodges

Keekorok Lodge

Mara Simba Lodge

Base Camp Maasai Mara

Mpata Safari Club.
Tented Camps and Camping in Maasai (Masai) Mara
These luxury tented camps in Mara offer highest degree of comfort.
Mara Sarova Camp - Sarova Hotels

Kichwa Tembo Tented

Mara Explorer - Heritage Hotels

Fig Tree Camp- Mada Hotels

Olonana Tented Camp-Sanctuary Lodges & Hotels

Mara Intrepids -Heritage group of Hotels

Mara Safari Club- Fairmont Hotels

Governor's Camps -Governor's Hotels & Lodges

Siana Springs - Heritage Hotels

Oseur Tented Camp