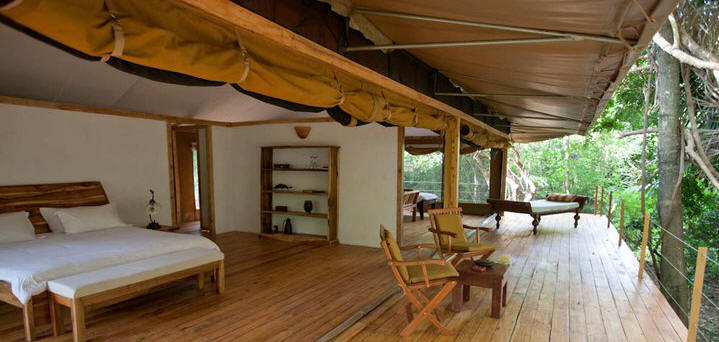 The Rhino River Camp comprise of eight luxury cottages built out of caramel canvas, sustainable hardwood, on platforms above the gently flowing Kindani River. It is located in 80 acres of privately owned wilderness, offers a hance to connect with nature and to delight the senses in un spoilt bush and forest. Each room has its own private 'zen' area where you can meditate, re-read your favorite novel, or simply unwind.
Rhino River Lodge has a swimming pool to dream of, a well-stocked bar and restaurant area, numerous nature trails for you to explore privately on foot or bike, and this will make your perfect hideout.
Activities/ What to do at Rhino River Camp
Activities at Rhino River Camp include game drives, lion sighting, bush meals, bush walks, massage, mountain bikes, sun downers, fishing and cultural visits.
Rates
The lodge rates vary seasonally. Rates vary from the low of USD 230 pp to the high of USD 470 pp sharing. Simply how much you pay will depend on the season of travel.
Ikweta Safari Camp Meru National Park / Ikweta Safari Lodge ,

Ikweta Safari Camp is the only mid range facility providing full board services in Meru National Park. Ikweta Safari Camp, is synonymous with affordable Safari luxury and value for money. Ikweta Safari Camp promotes our brand of high-standards, affordability and value for money in an environment noted for simple elegance, style and convenience.
Location:
Ikweta Safari Camp is located outside Meru National Park, 2 Km from Murera Gate.
The road is tarmac from Nairobi to the camp gate. You can either drive the park or use the daily scheduled flights from Nairobi.
Ikweta Safari Camp Residents / Non Resident Rates in Ksh and USD equivalent 2012
Kenya Resident Rates in KES
KES 10,500 (double)

KES 6,500 (single)
Non-Residents in KES/ USD. The USD rate fluctuates with the market.
KES 12,600 (double)/ USD 158.00

KES 7,600 (Single)/ USD 95.00
Accommodation at Ikweta Safari Camp/ Lodge
Ten (10) spacious tents thatched in makuti and tastefully decorated in Safari-style and with high quality furniture including either twin or double beds. Excellent meals prepared from the freshest local produce. Large swimming pool and other amenities.
Other Accommodation Facilities in Meru National Park

Budget Accommodation in Meru Nationa Park
Budget accommodation is available at Kws Self catering Bandas-Bwatherongi and Murera. The Bwatherongi Bandas -Self Catering :- With a swimming pool the Bwatherongi Bandas are some of the Best in Kenya. Bwatherongi Bandas are well spaced giving each individual visitor utmost privacy. The Bandas are located on the banks of bwatherongi river. Bwatherongi Bandas feature private bathrooms with hot showers. The cooking area is outside the bandas.
Luxury Accommodation in Meru National Park
Rhino River Camp, Leopard Rock Lodge, Elsa's Kopje Lodge , Meru Mulika Lodge, Off Beat Campsite provide luxury accommodation in the Park. Luxury accommodation facilities rates vary between USD 300 per person to USD 600 PP per night.

Elsa's Kopje Lodge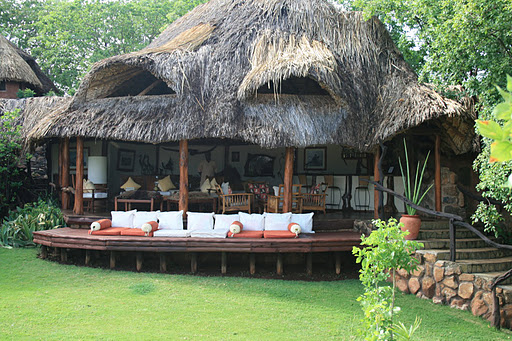 Elsa's Kopje is named after Elsa the lioness, made famous by George and Joy Adamson's biographical book and film "Born Free". Winner of the Good Safari Guide's 'Best Safari Property in Africa' award, Elsa's Kopje is renowned for being one of the most elegant lodges in Africa, with the most spectacular setting. It is the best upmarket location to view rhino in their natural habitat in Kenya.

Elsa's Kopje is almost invisible to the eye as you approach its home on Mughwango Hill. It blends into the rocky crags of the "kopje" (small hill), built above the site of George Adamson's original campsite. Every cottage is the ultimate 'room-with-a-view', uniquely designed and crafted, incorporating the natural features of the rocky hillside. Each cottage has spacious double or twin beds with en suite, elegantly appointed bathrooms. There is an open bar, lounge and dining room with an exceptionally inviting infinity pool overlooking the Meru plains.

Elsa's Private House is a spacious, stylish, exclusive hideaway set slightly apart from the main lodge. It has 1 double room and 1 twin, both with their own en suite bathrooms. There is a large private living and dining area, leading seamlessly outdoors into a private garden and swimming pool. Elsa's Honeymoon Suite is a triple level room, with a sitting room, double bedroom and en suite bathroom. With its breathtaking views, this latest addition is definitely Elsa's 'pride'! Read More on Elsa's Kopje Meru National Park
Leopard Rock Lodge
Enjoy the luxurious right in the middle of an African wilderness with its doum palms, wild fig trees, euphorbias at the doors of the deserts.

15 romantic cottages very luxurious with panoramic view from the bed, overlooking a tropical river and Bisanadi reserve with very high roof which ensures natural ventilation, large private terrace which have attractive view on - river and the bush.

10 luxurious suites including honeymoon cottages.

5 luxurious double room cottages 2 bathrooms, Swimming pool on the ground of the bush river, 1 intimate lounge, 2 cover bar lounges, 1 open lounge, 1 fireplace.

Open to the wilderness (no fence) at the same level, Buffalos, Elephants, Leopards, many others and Lions which come very often to drink at the swimming pool by night. Read more on Leopard Rock Lodge
Visit to Meru National Park/ Meru Game Park:
Meru can be visited throughout the year. A visit to the Park is best combined with the nearby attractions. These include Mt Kenya National Park, Lewa Down, Samburu, Buffalo Springs and Shaba Reserve, Sweet Waters game sanctuary. Just email us and let us organize a wonderful safari to these places including Maasai Mara, Serengeti, Manyara, Ngorongoro and Lake Nakuru Combinations.
Our Email: rnxploresafaris@gmail.com
Habitats:
The main Woodlands, wide open plains and riverine.
Getting to the Park:
Meru is accessible from any part of the world. Whether you are in New York, California, Beijing, Tokyo or Sydney you can easily visit Meru. Just fly into Nairobi Jomo Kenyatta.
Fly/Flight From Nairobi.
The park has a total of 16 airstrips. Daily scheduled flights fly into Kinna, Mulika, and Murera airstrips. Air Kenya Aviations operate daily flights from Nairobi Wilson To Meru National Park.
Time Table
| | | | | |
| --- | --- | --- | --- | --- |
| FLT NO. | FROM | TO | DEP | ARR |
| 861 | WIL | HKMK | 07:30 | 08:15 |
| 871 | WIL | NYK | 09:15 | |
| | NYK | HKMK | | 10:30 |
| 827 | HKMK | NYK | 10:30 | |
| | NYK | WIL | | 12:15 |
Driving from Nairobi:
The park is linked to Nairobi by all whether road via Murera gate. There are two routes:-
From Nairobi (348 kms), via Nyeri-Nanyuki-Meru-Mau-Murera Gate via all weather road.

From Nairobi (348 kms), via Embu-Meru- Mau-Murera gate via all weather roads. The junction to the park is before you reach Mau town.

Gates include-Murera, Bisanadi, Ura, Kinna
Vehicle: All the main roads to the Park have been upgraded. Thus it can be accessed by a standard vehicle. A sedan can access Mulika Lodge, Leopard Rock Lodge, Kina Park headquarters and Bwatherongi Bandas . However to fully enjoy the park, you need a 4WD.
From Meru town you can easily hire a car to the park from the tour operator office:- GORILLA SAFARIS RWANDA, 1st Flr. Doris House, Tom Mboya Street, Tel:+254 723 684 974, Email: rnxploresafaris@gmail.com . We are open everyday of the week between 08:00-17:00 Hrs.
Attractions & Physical Features In the Park:
Mammals includes- Lion, elephant, cheetah, leopard ,Lesser Kudu, duiker, Dik Dik, buffalo, reticulated giraffes (Endangered), black and white rhinos, Grevy's zebra (Endangered), eland, Oryx, Impalas, buffaloes. Black and white Rhinos ( Endangered). Aquatic life include hippo and crocodile. Fishing for barbus and catfish is permitted at camp sites and along the Tana River.

Uninterrupted view of Mt Kenya.

Over 300 species of birds recorded.

Adamson's grave and camp

Pippa's Grave- Pipa was Cheater brought up by Joy Adamson.

Elsa's Grave-Elsa was the lioness of the born free fame.

Swamps- Mughwango, Mulika, Bwatherongi, Mururi and Leopard Rock. Animals congregate in the swamps during dry season

Rivers- a total of 14 permanent rivers and numerous streams including Murera, Rojowero, Kiolu, Ura, Bwatherongi. Tana River forms its southern boundary.

Rhino Sanctuary: The rhino sanctuary can be accessed from Murera gate.
Activities/ What to do in the Park
This park is about exclusivity. Bird Watching, Picnics, Camping, Wildlife Safaris, Adventure and Cultural safaris can all be organized. Game and bird watching are best undertaken in the morning and evening. Nature walks, rafting and fishing can be organized along Tana River. Afternoons are best spent on cultural tours, fishing, rafting or just relaxing at the hotel swimming pools.
Restocking of Meru National Park
In the 1970's the park boasted of more than three hundred Black Rhinos. By 1997, this population had been reduced to zero. The plan right now is to re-introduce about 30 Black Rhinos. After the 1989 massacre of the white Rhinos, the lone survivor Mukora was re-located to Lake Nakuru. In 2002, seven White Rhinos, including Mukora were once more re-introduced from Lake Nakuru.
Restocking Meru National Park will go in conservation books as one of the largest big mammal translocation undertaken in human history. In total 66 Elephants trans-located from Laikipia Private- Sweet Waters game sanctuary & Ol Pejeta Conservancy. Whole families have been trans-located to avoid disruption of family bonds. Besides Elephants and Rhinos other translocations include:-
20 Grevy's Zebra. The Grevy's Zebra is highly venerable to extinction.

In 2003, 39 reticulated giraffes were trans-located from Lewa Conservancy making a total of 51 of these rare species in Meru park.
Meru Hotels | Meru Accommodation | Hotels Meru Kenya
Meru is a small agricultural town on the slopes of Mt. Kenya. Budget hotels exist in Meru town. The hotels in Meru town include the following:- Meru-Mwangaza-White-House-Hotel, Gatimene Palm Springs, Meru Three Steers Hotel -Located at Makuno
Nevada Palace Hotel, Meru Kenya -Located at Makutano, West Wind Hotel Meru - Along Meru Mau Road, Meru County- Town Centre above Kemu Campus, Blue Towers Hotel- located at Makutano, at the junction of Meru Maua Road, White Star Hotel along Mau road before you reach Mafuko Industries. No Alcohol., Hotel Royal Prince- Along Tom Mboya street next to cit clock, Meru Safari Hotel
Brown Rock Hotel, Milimani Hotel and Pig & Whistle: The Pig & Whistle Hotel was built in 1930s. It is in this hotels that Joy and George Adamson stayed resulting in Joys divorce from her second husband Peter Bally.
To Book/ Reserve any of the above hotels email us: rnxploresafaris@gmail.com
Attractions within Meru Town
The town is an agricultural centre. Tourism is not prevalent thus if you desire a hassle free cool place, you can use it as a base to explore the slopes of Mt. Kenya and Laikipia. The town is surrounded by agricultural farmlands. Wheat and horticulture plantations occupy the Timau region adjacent to Lewa Conservancy. An interested visitor with intentions to mingle with the locals can sample the following.
Meru Museum: Formerly a District Commissioner's Office was built in 1916. The Museum is ethnographic exhibiting the Culture of the local people. On display are various tools, artefacts, local geology, stuffed mammals and birds. Besides the museum has a traditional homestead, a crocodile and snake pit and various herbs.

The Njuri Ncheke (Council of elders) headquarters to learn how justice was dispensed in the old days among the locals.

The Gakoromone open air market for stocking up and chatting with the locals. Just carry loose change to use in the market and be careful of pick pockets.

Swimming is available at the Golf Club and Fred's Academy. The pool at the Golf Club is good and its rarely used.

Lake Nkunga picnic site can be visited with arrangement.

Rukunga's private museum

Visit the King Muhuru.
Meru Tour operator/ Travel Agent Car Hire/Rental
R&N Xplorer Africa Safaris-Located at Doris House, Tom Mboya Street Tel:+254 723 684 974, car hire/rental and safaris to the Park and the surrounding conservation blocks of parks of Mt.Kenya National Park, Samburu, Buffalo springs, Kora and private game ranches of Ol Pejeta conservancy and Lewa Down.
To the East park lies Bisanadi National Reserve. It is located at the border of Meru and the Borana people. Opened in 1979 it occupies an area of 606 Km˛. It accessible by 4WD vehicles is ideal for camping. There is an airstrip at Korbessa.
Kora National Park : Across Tana River from Meru Park. Covering an area of 1,787 square kilometers. It is in Kora National park that George Adamson was murdered in his camp. Kora is full of Inselbergs, rocky outcrops covered with vegetation that seem to appear randomly above the plains. Mammal life include elephant, Lesser Kudu, wild dog, striped and spotted hyenas, leopard and cheetah. 21 species of fish have been recorded, with 500 species of insect, 33 molluscs and 40 reptiles.
Other parks in this block include Rahole National Reserve, offering a wide variety of plains game, hippo, crocodile and excellent bird viewing; also Mwingi National Reserve, formerly North Kitui. Game to view includes hippo, crocodile, buffalo and warthog.