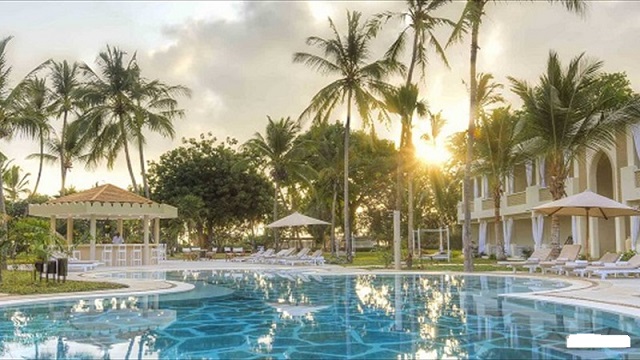 Malindi is a popular tourist resort located 120 Km to the North-east of Mombasa. The resort is accessible by road, air and sea. Most of the visitors fly in directly by charter flights from Europe. A flight from Nairobi will take 45 minutes. Bus travel from Nairobi will take about 10 Hours. To holiday makers mind Malindi conjures up clear images of serene tropical coastal destination with lots of sun-shine, colorful coral gardens with colorful marine life, white palm fringed beaches kissing the shores turquoise Indian ocean. Such images are not far from the truth. Though the shore line is sometimes invaded by sea weeds, yonder lies coral reef with clear waters, beautiful coral gardens with lots of diving opportunities. Beyond the coral reef is the deep sea, a playground of anglers of world repute. As a tourist destination Malindi has lots to on offer for any holiday maker- families traveling with children and young adults, adventure travelers, wildlife, culture and nature lovers.
Malindi A Friendly City
One of the main tourist attractions to Malindi is the welcoming friendly behavior of the local people. From its humble beginnings in the 14th century, Malindi was noted for its friendly people.
After rebuttal in Mombasa, Malindi offered sanctuary to Vasco da Gama and even offered him a guide to take him across the seas to India. The Vasco da Gama's pillar and the little Portuguese Church are a testimony to this friendship. Earlier, the sultan of Malindi had welcomed Chinese sailors and offered a giraffe as a present to their King. The giraffe was presented to Yong Le Emperor of China in 1415 during the Ming Dynasty. To this day, the giraffe is the symbol of diplomatic relationship between China and African countries. Due to its peaceful nature, Malindi continues to attract visitors from different corners of the world. Notable is the large population of Italians which has earned the town the tag new Milano.
Agreeable Climate
Another of Malindi tourist attractions is the beautiful climate. Located just south of the equator, Malindi experiences a sunny weather which is hot and humid all year. Long rains fall between the months April to July. Off the coast of Malindi the ocean shallow and pleasantly warm, ideal for swimming throughout the year. The warm, crystal clear waters have made it possible for the coral reefs to flourish. In the coral gardens are colorful marine fish an attraction to numerous visitors.
Other Tourist attractions in Malindi comprise of what the tourist see, what they do (activities) and where they stay. Two Marine Parks- Malindi Marine Parks (In Malindi) and Watamu Marine Park( In Watamu) have colorful coral gardens with splendid display of marine life. Visitors in glass bottomed boats flock into the parks for snorkeling and diving expeditions. Some hotels like white elephant are an attraction into themselves. In the vicinity of Malindi are other attractions like
Among Malindi's tourist attraction is the rich Swahili culture of the local people. Their welcoming attitude has made Malindi a choice destination for many Italians, many of whom have opted to settle there permanently.

The devil's Kitchen or Canyon de Mirafa- bizarre rock formations with a mythical origin behind them. Located 33 km to the North-west of Malindi.

Watamu turtle watch

Gedi Ruins

Kipepeo (butterfly) Project

Aqua ventures

Bio Ken snake park

The falconry

Takwa ruins

Vasco da Gama's pillar

The Portuguese church

Sawa Sawa dhow excursions

Tsavo East/ West National Parks
Watamu- The small village of Watamu has 8 Kms of pristine sandy beaches which has been rated one of the top ten beaches in the world. A major plus of staying at Watamu is that you can swim both at low and high tides. However the beach is clogged with seaweed from June to October. Besides the beaches other attractions in Watamu are the Watamu Marine Park, the snake farm, Mida Creek and Whale Island. At Watamu, you can while your day relaxing in the beach or on the various adventures within. Activities at Watamu include:-
Deep sea fishing in pursuit of sailfish, billfish and hammerhead sharks, among other prized catches

Fitness and Yoga courses

Kite surfing-During the months of July and August and from January through March. To learn Kitesurfing visit Che Shale a few kilometers to the north of Malindi.

Golf at Malindi Golf Course.

Dhow cruises

Visits to Watamu Snake Park-The snake park has the largest collection of snakes in East Africa with over 200 species. The adjacent laboratory supplies hospitals with anti venom.

Visits to the Marindi and Watamu Marine Parks.

Superb snorkeling and bird watching at the Mida Creek.

Visits to Tsavo East National Park
Getting to Malindi /Flights to Malindi
Several airlines operate daily flights to Malindi from Jomo Kenyatta Airport (Nairobi), Moi Airport (Mombasa) and Wilson Airport (Nairobi). Several European Countries operate charter flights from Europe direct to Malindi.
Driving
You can drive from Nairobi or Mombasa to Malindi. Several up country buses operate daily from Mombasa or Nairobi to Malindi.
Malindi is one of the premier beach resorts in Kenya. The town located 120 Km north of Mombasa has witnessed unprecedented growth in the hotels industry. Malindi town has numerous high class hotels kissing the palm fringed beaches of the Indian Ocean. Along Malindi's Casuarina Road are numerous guest houses, resorts, private villas, self catering apartments and cottages all accepting paying guests on full time or temporally. Among the best of Malindi's Beach Hotels are Ocean Beach Resort And Spar and Kilili Baharini Resort popular with the creme de la creme of Kenya. The Plan Hotel/ Sandies resorts include Africa Dream Village, Tropical Village, Coconut Village and Malindi Beach. Among the memorable of Malidni hotels are Coral Key, Drift wood, Africa Dream Village and Scorpio Villas. In Malindi High Season Falls in January-March; July to October. Mid Season -October to December. Low Season -April May and June. Most of the properties close during the low season.
Malindi Beach Hotels or Beach Resorts can be classified in terms of facilities and even the price range. Depending on the rates, some properties will fall in the category of deluxe or super luxury. Some properties like Woburn Residence, Ocean Beach Resorts and Coral Key combine hotel services with apartments for long stay. The apartments at Woburn and Ocean Paradise are luxurious enjoying spacious grounds and swimming pools. The Kilili Baharini resort is famous with the creme de la creme of Kenya noveu riche. Coral Key, Driftwood, Lawford and Seaview Lodge have withstood the test of time and have impeccably served Malindi. There are numerous budget properties in Malindi charging from KES 1500 (USD 20) to KES 3500 (USD 81) per night on double rooms. A good example is the slightly hidden Bush Baby Lodge and the African Pearl.
Watamu also features excellent beach resorts or hotels among which are the Turtle Bay, Hemingway's, Baracuda, Tembo Point and Garoda Beach Resort.
As per our judgment, the following properties offer impeccable high class or luxury services
1. Woburn Residence
2. Ocean Beach Resort & Spa
This is a luxury beach front property located slightly outside town along the Lamu Road.
3. Tembo Apartments (Self Catering Apartments)
4. Kilili Baharini Resort
5. Diamonds Dream of Africa Hotel ( Planhotels/ Sandies)
Equally good properties like
1. Sandies Tropical Village Hotel( Plan/Sandies hotels)
2. Sandies Coconut Village ( Plan/ Sandies Hotels)
3. Diamonds Malindi Beach Hotel (Plan? Sandies hotels
4. White Elephant:
5. Coral Key
6. Tamani Jua
7. Silver Sands
8. Barracuda Inn
9. Hemingway's Beach Resort (Closed 1may-14Jun)
10. SeaView Lodge
11. Tembo Point